Event Description
THE RACE
On April 24th 2022, join thousands of marathoners and half marathoners for an epic running journey a decade in the making! Founded in 2011, the NYCRUNS Brooklyn Marathon & Half Marathon now has a course worthy of the borough it calls home and a great new Spring date.
See the course flyover below!
---
THE COURSE
The iconic new route starts in hip North Brooklyn and winds around the waterfront taking you under the historic Williamsburg, Manhattan, and Brooklyn Bridges while delivering eye popping views of Manhattan. From there, the route heads up the grand concourses of Fulton Street & Flatbush Avenue before passing through Grand Army Plaza and into historic brownstone Brooklyn.
Half Marathoners will turn into Brooklyn's backyard Prospect Park at mile 10 while marathoners will continue to "Sodom By The Sea," Coney Island U.S.A. before returning to Prospect Park to complete the final 3 miles of the race. It's an epic tour de force of Brooklyn like none before.
The USATF Certified courses will be electronically timed using the MYLAPS Bibtag system. There will be timing (split) points and clocks throughout the course. Water, Gatorade, and restrooms will be available approximately every 1.5 miles, and medical support will be available throughout the course.
Event details and schedule
TRAINING
The Official Brooklyn Marathon & Half Marathon Training Program will help you Win Your Race! This 16-week customized program is based on your running history, racing goals, and schedule.  Lose the one-size-fits-all PDF's and let us help you get to the starting line healthy and ready to crush it.
There are two options. The core program is fully automated and will kick off the first week of January. Training Plus adds in remote coaching via e-mail with Head Coach John Honerkamp and his team.
Program features include:
Customized training program that will incorporate various types of training including intervals, hills, tempo, and long runs as well as easy runs and days off.
Goals and program content that update based on your ongoing training journey.
Ability to log your miles manually or via MapMyRun, Garmin Connect, and Strava (not officially supported)
Other training content including cross training, strength training, and nutritional guidance
1-on-1 coaching support via email (Plus Only)
Training Program: $50
Training Program Plus Support: $100
---
THE AMENITIES
NYCRUNS is known for putting on running events of the highest quality. After the race, change into your NYCRUNS Brooklyn Marathon & Half Marathon race shirt* and wear your incredible medal with pride!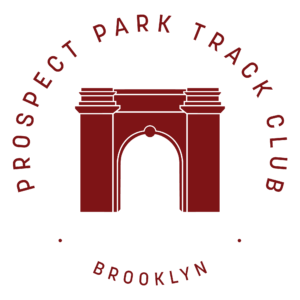 Need a pacer? Prospect Park Track Club will lead the way. Hydration stations will be managed by other great Brooklyn running clubs.
Your friends can track you and you can revisit your race by checking out the app and digging on the free photos taken along the course and at the finish line (video too!)
Bag check will be provided. If you plan on checking a bag, you must use the single clear bag provided by NYCRUNS. You may not put another full bag/backpack/briefcase inside the clear bag. All items must fit inside the clear bag. NYCRUNS reserves the right to search your bag at any time.
*Sizes are guaranteed – if we don't have your size at the race, email theteam@nycruns.com within two days of the race and we'll ship your shirt to you. Make sure to include the race name, your name, size and shipping address. Shipping to domestic US addresses only.
---
BIB & SHIRT MAILING
If registering on or  before March 22nd, you can choose to have your bib & shirt mailed to you for an additional fee of $25. You must choose this option when registering and the bib and shirt must be mailed to the address you enter at that time. Shipping to domestic US addresses only. Bib & shirt mailing is included when you become a VIP!
---
VIP
Upgrade your Brooklyn Marathon & Half Marathon experience and become a VIP!
For 2022 there are two VIP levels you can choose from.
Standard VIPs will receive all of the standard amenities plus:
Entry for yourself and one guest (not another participant) to a private post-race area on race day that includes tables, chairs, dedicated food and hydration for VIPs and guests only.
Exclusive VIP-only giveaway.
Your bib & shirt mailed to you before the race (domestic US shipping only) – skip the lines at packet pickup! (Bibs will not be mailed internationally; they must be picked up at the Expo).
Customized sixteen week marathon or half-marathon training plan delivered electronically and supported by Head Coach John Honerkamp to help you Win Your Race.
Your Name Printed On Your Bib.
Guaranteed entry into the 2023 NYCRUNS Brooklyn Marathon & Half Marathon.
All of this for just an additional $250!
VIP Plus will receive all of the above plus:
Post-race celebratory dinner with past and present Brooklyn Marathon winners, celebrity runners and the NYCRUNS Team in Brooklyn on Sunday evening (you may invite one guest for an additional fee).
Gifts from our sponsors.
VIP Plus costs an additional $500.
VIP spots are limited, don't miss out!
---
GET YOUR IN TRAINING GEAR & MORE
Get in gear and get training for Brooklyn 2022. Snag a tech t-shirt or singlet for your Summer training runs. Shirts will begin shipping in early August. You can also order this and other great swag in The Store.

---
EXPO
We are still determining the location of the expo, though it will operate on 4/22 and 4/23. Once we do, we will update this page and inform registered athletes via email. If you do not select bib shipping or VIP, you must come to the expo to pick up your bib.
---
COST
See chart below. NYCRUNS members receive a 20% discount, race deferral rights, and other perks. You may become a member while checking out if you are not already one.
Pricing Through August 31st // First 5,000 Registered

DISTANCE

NYCRUNS MEMBERS

NON-MEMBERS

Half Marathon
  $104
   $130
Full Marathon
$148
  $185
 
 
 
 
 
 
Online registration will close when the race sells out. There is no race day registration.
---
COVID-19
The following procedures will be in effect for this event:
You may not attend the event if you have experienced symptoms of COVID-19 or tested positive in the fourteen (14) days prior to the event.
If you test positive for COVID-19 within the fourteen days following the event, you must email theteam@nycruns.com so that we may notify staff and participants as necessary.
Other requirements including proof of vaccination may be in effect. This page will be updated and registered athletes will be advised via email when policies are finalized.
---
RESULTS, AWARDS, PHOTOS & VIDEO
Results will be emailed (often during the race) and the full results will be posted on our results page after the race. Photos and video will also be available on the results page several days after the event.
Awards will be given to the top three overall male, female and non-binary finishers as well as the top three male female and non-binary finishers in each of the following age groups: 19 and under, 20-24, 25-29, 30-34, 35-39, 40-44, 45-49, 50-55, 55-59, 60-64, 65-69, 70-74, 75-79, and 80 and over.
Our awards policies are available here.
VOLUNTEER
If you represent a non-profit who might be interested in a group opportunity, please email theteam@nycruns.com.
---
DIRECTIONS
Please take public transportation if possible. The L train to Bedford Avenue and G train to Nassau Avenue are closest to the start. Please check mta.info for the most up to date information on public transportation.
Driving is not recommended due to limited street parking and the point to point nature of the course.
---
POLICIES
The standard no-refunds, no-deferrals, no-transfers policy applies, unless you are signed up for the NYCRUNS Membership Program. NYCRUNS members receive a 10% discount, race deferral rights, and other perks. Strollers or dogs are not allowed in NYCRUNS races and you may be disqualified if earbuds or headphones hinder your awareness. You must remain on pace to finish within the time limit in order to receive course support and an official finish time. Please familiarize yourself with our complete policies and rules of competition.
As per the Protecting Young Victims from Sexual Abuse and Safe Sport Authorization Act of 2017, any adult interacting with amateur athletes, defined as a child or minor under the age of 18 that participates in youth running programs or any events hosted or operated by NYCRUNS, has a duty to report a reasonable suspicion of sexual misconduct such as child sex abuse, non-consensual sexual conduct, sexual harassment or intimate relationships involving an imbalance of power within a 24- hour period to local law enforcement by calling the New York State Central Register at 800-635-1522. Participants found to be listed on a sex offender registry, convicted of a sex crime, or caught having, creating, or distributing child pornography will be immediately barred from all NYCRUNS events.
RACE CONTACT
Event Location & Accomodations