Event Description
Alhambra Pumpkin Run
Saturday, October 1, 2016
Alhambra Park
6:00 am - Registration
7:30 am - 10K Start 
8:00 am - 5K Start
9:30 am - Kids Only 1K Race Start 
REGISTRATION
Register for our 3rd Annual Alhambra Pumpkin Run here! You may register as a single runner or as a team (20+ members). Please note that the sooner you register for the run, the more dough you'll save. 
Register early and let's do this! 
 Early Registration: 3/1 - 6/30 
10K: $50
5K: $35
1K: $15

General Registration: 7/1 - 8/31
10K: $55
5K: $40
1K: $18

Late Registration: 9/1 - 9/28 
10K: $60
5K: $45
1K: $22

On-Site Registration: 10/1
10K: $65
5K: $50
1K: $25
REGISTRATION TIPS
1. When using a promotional code, please enter it by clicking on the "Enter promtional code"link above the ORDER NOW button prior to checking out.
2. If you are registering for another runner, please enter their email address when registering them. 
3. For Group Discounts: please create your group of 20+ or more before registering online in order to receive the group discounted rate. Groups must pay all at once.
4. When placing your order for your t-shirt size, please note that you cannot change your t-shirt size after your registration.
ALHAMBRA PUMPKIN RUN  PERKS
1. Each runner will receive a commemorative Pumpkin Run t-shirt at registration pick-up
2. Each runner will receive a commemorative 2016 medal when they cross the finish line.

3. All runners will receive a commemorative bib with chip timing 
(excluding 1K Kids Only runners)
 in order to get accurate time results.
4. All runners will receive complimentary snacks and drinks from our sponsors after they cross the finish line.

5. A large group runner/walk warm-up will be conducted before the race begins.

6. Awards for 1st, 2nd and 3rd Place for 5K and 10K will be held on stage at 10:
00 am. 
7. Awards for 1st, 2nd and 3rd Place will be held for 1K Kids Only Run on stage at 10:00 am.
8. Each runner will have access to our finish line video for accurate time and published timing of each runner on our site after the race. 
10K/5K ROUTE THROUGH THE BEAUTIFUL CITY OF ALHAMBRA
*Please note: The 10K route is 2 loops of the 5K route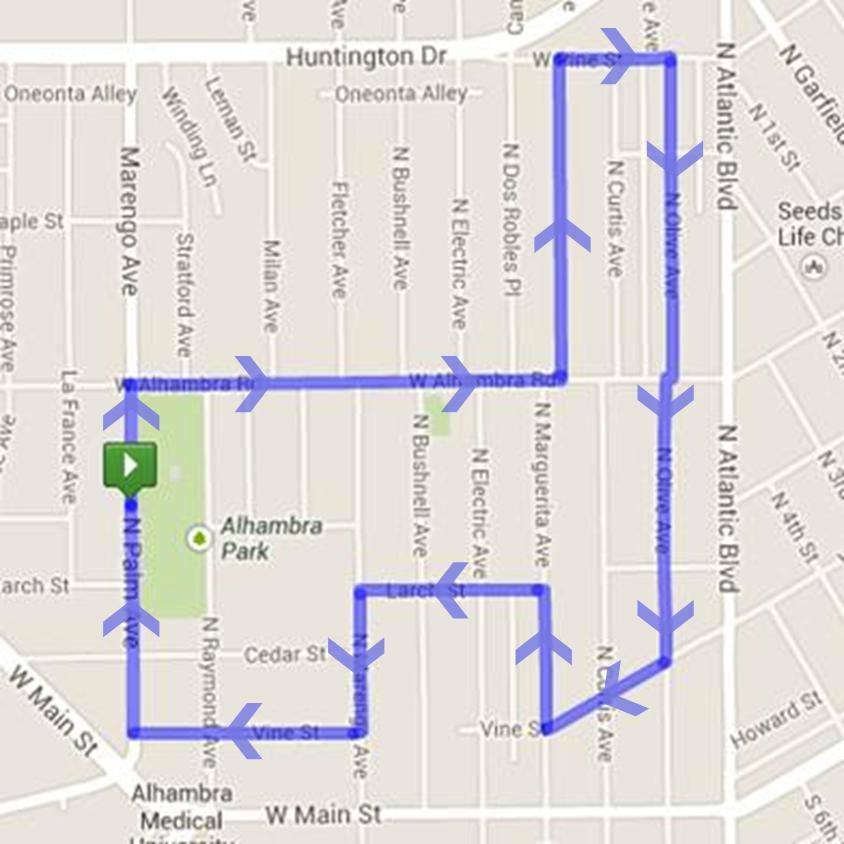 PARTY & FUN!
The Alhambra Pumpkin Run is also a HUGE party with a competive runners edge! Dress up in your best Halloween, Pumpkin or Orange gear! Being so close to Halloween, many of our runners dress up. Feel free to wear all orange, a Halloween costume or a big and fun pumpkin tutu!  Make it fun and memorable!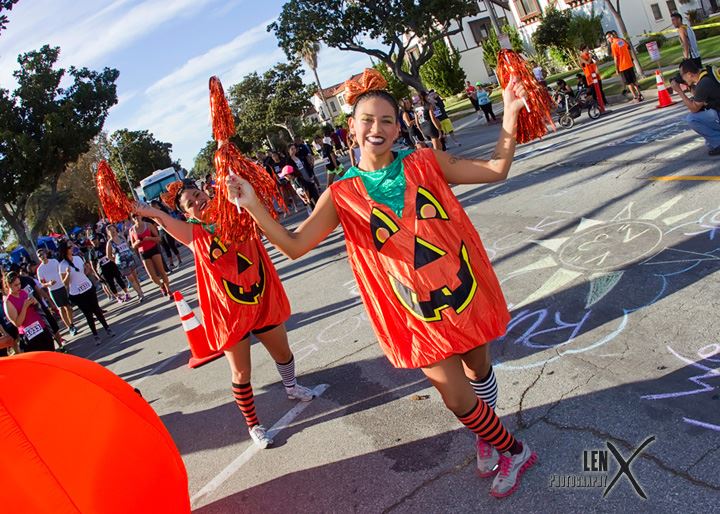 MORE QUESTIONS?
Still have more questions? Please visit our FAQ's page on our website.
REFUND POLICY
All Pumpkin Run entry fees are non-refundable and non-transferable. You may not give or sell your registration to another individual, if you do this it could result in your disqualification as well as that of the runner who uses your race number. The entry fee for this year's event will NOT transfer to next year's event, no exceptions. This policies stays in effect whether you are injured, have an unexpected business or family emergency, pregnancy, etc. There are NO exceptions. Any inquiry regarding this policy will be directed back to this page. The Alhambra Pumpkin Run will be held, rain or shine.
WANNA BE A FAN?
See you at the finish line. 
#PUMPitUP
Event Location & Accomodations