Event Description
Celebrate Father's Day by kicking off the weekend with an awesome race taking you on a scenic tour through the beautiful Santa Clarita Valley. Run with friends, family, and kids in a fast Half Marathon, 10K, 5K, or Kids Fun Run. Earn an awesome Sugar Daddy bling and get ice cream at the finish line!
AWESOME COURSE
Runners get to enjoy the best of Santa Clarita's awesome paths and paseos taking runners on a spectacular tour around the Santa Clarita Valley.
FAMILY FUN
The Sugar Daddy Marathon is a race for everyone, runners, walkers, hikers, there is even a Kids Run where they earn a special kids medal!
ICONIC LOCATIONS
Runners will experience iconic locations, sights, and view including the recently restored 128-year-old Iron Horse Bridge crossing the Santa Clara river.
ICE CREAM FINISH
In June the weather starts to heat up in Santa Clarita and Sugar Daddy participants will get a special ice cream treat at the finish line!
All participants that finish the race will earn the inaugural Sugar Daddy medal, a large and hefty gold medal for Half Marathon and 10K participants, and a smaller version for 5K and Kids Fun Run participants. All participants will also receive a finisher certificate send to them after the race. Participants who finish 1st, 2nd, or 3rd in their distance category for men and women will receive one of these awesome collectors trophies. Are you ready to earn yours?
COURSE MAP
The Sugar Daddy race features 4 unique courses on the awesome paseo pathways, taking runners of each distance to experience different parts of the Santa Clarita Valley.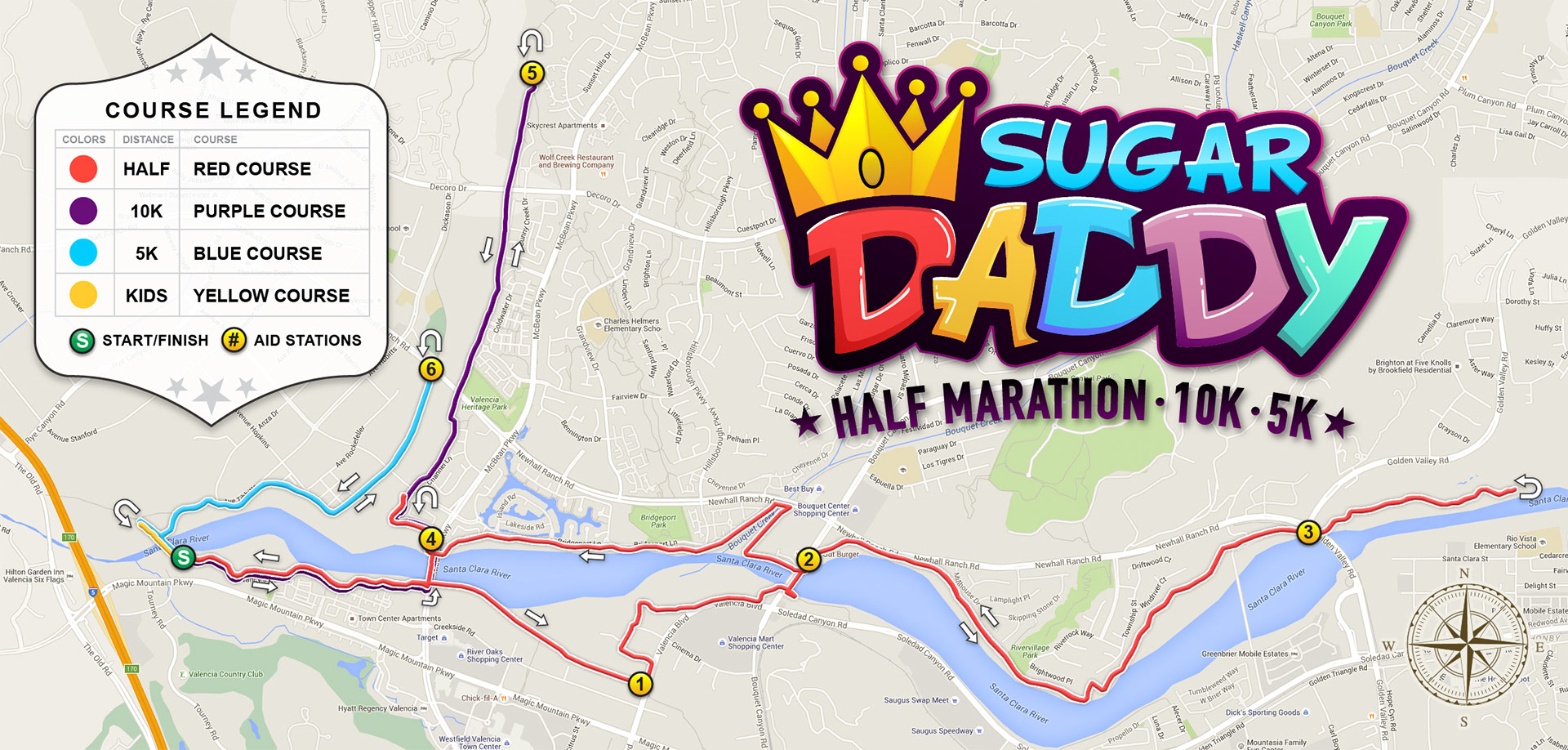 RUNNING FOR A GOOD CAUSE
By running in the Sugar Daddy race you will be supporting the following charities. We believe that it is important to give back to the world, be it a local cause that supports our community or a bigger one that supports people on the other side of the world. We have a soft spot for animals and kids in need. Help make a difference.
A portion of the race proceeds will go to these charities, plus you can choose to make an additional donation when registering, 100% of your donation will go to the charity of your choice.
WILDLIFE WAYSTATION
The Wildlife Waystation is a 160-acre private animal sanctuary located in the Angeles National Forest just north of Los Angeles, California. Home to over 400 wild and exotic animals comprising over 125 different species. The dedicated staff and volunteers are devoted to providing a place of refuge, healing and safety for animals in need. This sanctuary is supported solely by the generous donations of individuals and foundations worldwide.
GLOBAL ADVENTURE KIDS
Global Adventure Kids is a cause that is close to our hearts to help kids in rural locations to provide education resources for their future. Giving tools to build new schools, bring educational materials such as books and tablets. The initial project will provide support in Yubeng, China, near the location of our sister race, SHANGRI-LA Marathon, in the eastern Himalayas in the Yunnan province of China.
CHOWCHOW.ORG
ChowChow.org is a community resource dedicated to the betterment of the Chow Chow breed of dogs. Providing resources and connections that lead to helping rescue and place Chow Chows in need around the world. Also providing a destination for education, information, and a global community that allows Chow Chow owners to better care and raise their Chow Chows to be well socialized, healthy and loyal pets.
Learn more at: https://sugardaddymarathon.com/ 
Event Location & Accomodations