Event Description
Lads & Lasses - Ladies & Lords - It's time to get ready for LUCKIEST ST. PATRICK'S WEEK EVER - the Lucky Charm 1M/5K/10K on Saturday March 9 and/or the Lucky Laces 1M/5K/10K on Saturday March 16 - Get DOUBLE LUCKY and run them both!
But you know the drill, by the time this event rolls around we've been running through the wonderfully wild Colorado winter and we're just hoping for the warm whisp of spring.  So far we've had that hope realized every year at Lucky Laces, with the exception of one chilly, but dry, event day.  Regardless, you can drink away the weather at the Lucky Laces after-party, with live Irish music and other entertainment, some snacks, beer and drawings and, did we say beer yet, . . yes, beer.
One last thing you need to know.  We're doing the Lucky Double this year!  One week before St. Patrick's day we're kicking off what we call St. Patrick's Week with the Lucky Charm.  If you can only run Lucky Laces, read no further, click the register button and we'll see you in March.  If you want to know more about the Lucky Double - read on.
Info on the LUCKY DOUBLE below (and if we say lucky too many times then, well ... th' best o' luck t' you and we'll see ya' in the mid of March for th' LUCKIEST St. Paddy's week ever :)
MARCH 9 - LUCKY CHARM 1M/5K/10K: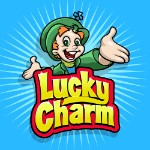 The Lucky Charm is one week before St. Patrick's Day, so get lucky and run the Lucky Charm on March 10th! Run the Lucky Charm and collect your charmed lucky charm medal at the end so that you can wear it while you eat your bowl of Lucky Charms at the end. And you'll definitely want to wear your lucky charm all the lucky week long as you get ready for the final celebration on St. Patrick's day!
This charming and lucky event is designed to get you all ready for the Lucky Laces event the following week. Now you may not be able to run them both, but we're going to make sure that your experience at the Lucky Charm has everything you need for the luckiest of lucky St. Patrick's week - awesomely lucky shirt, great medal, fast 1M, 5K and 10K course, phenomenal vendors, entertainment, race give-away drawings and much, much more!
MARCH 16 - LUCKY LACES 1M/5K/10K:
Lucky Laces, which takes place on St. Patrick's Day (same location and race start times as the Lucky Charm) and includes shirt, medal and huge after-party with live Irish music, beer and more!