Event Description
TOOTH OR CONSEQUENCES MTB FESTIVAL
We are excited to announce the inaugural 2016 Tooth or Consequences Mountain Bike Festival held in beautiful Northern Colorado. Tooth or Consequences is a multi-day mountain bike extravaganza featuring a Friday evening Packet Pickup Party, an Enduro Race on Saturday, and the infamous 40 in the Fort Endurance MTB Race on Sunday, plus a whole bunch more MTB fun!
For those who aren't into racing, but want to enjoy the festivities and local trails; we will be recommending non-competitive routes for all ability levels. So bring your wheels and come experience some of the awesome riding opportunities in Northern Colorado and Southern Wyoming.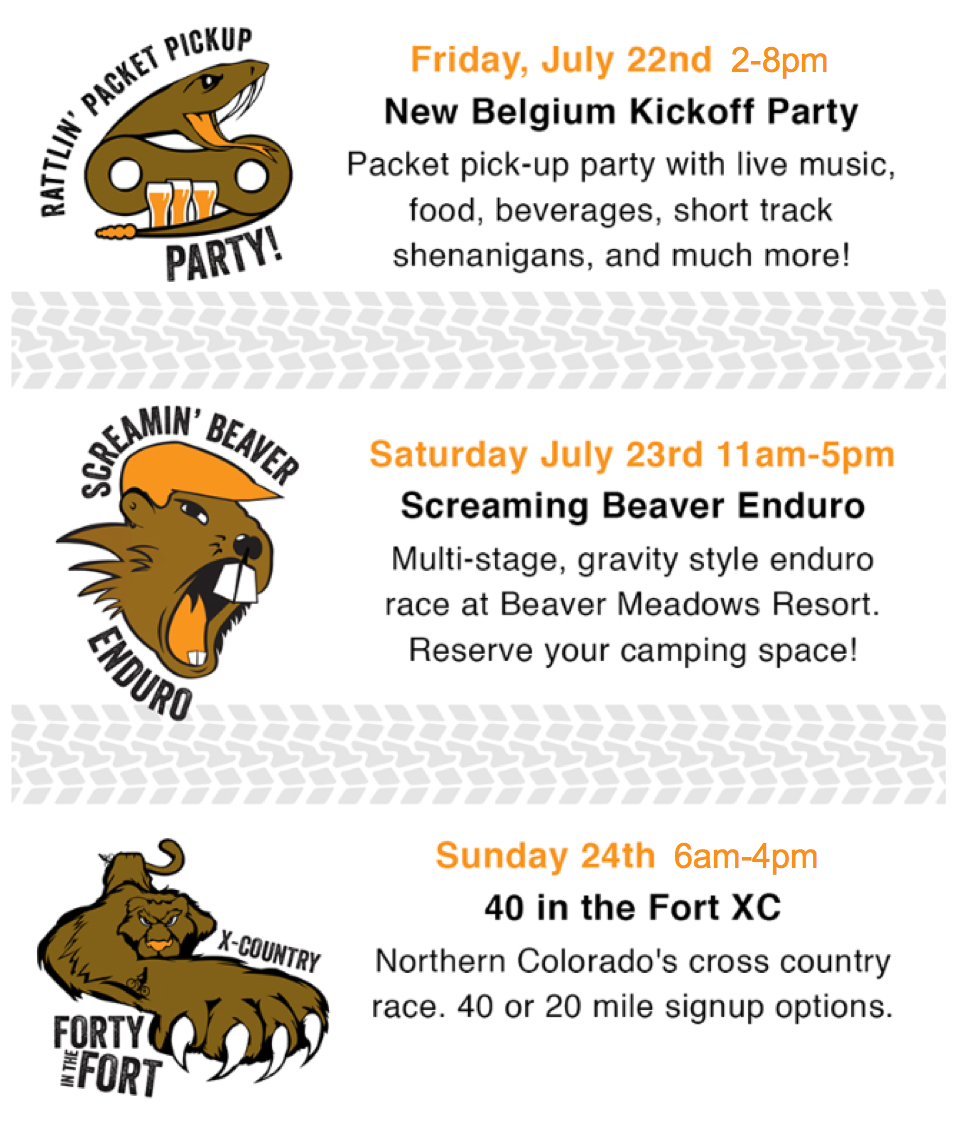 Rattlin' Packet Pickup Party, Friday, July 22, 2016, 2PM - 8PM
This event starts Friday afternoon at the world famous and newly renovated New Belgium Brewery.  Come pickup your race packet(s), hang out at the New Belgium patio, have some beer and food and check out our festival sponsors.  There will be a carnival-like atmosphere to kick off the festival weekend, with rides and other MTB activities to make sure that everyone has a good time.
Location: New Belgium Brewing, 500 Linden Street, Fort Collins, CO 80524
The Screamin' Beaver Enduro, Saturday, July 23, 2016, Race Start: 11AM
The first ever "Screamin' Beaver Enduro" kicks off at Beaver Meadows Resort Ranch. This staged event will offer up plenty of exciting technical racing for riders and spectators alike. This could be a pretty rowdy event, so cowbells and heckling are highly encouraged! The name says it all… It's gonna be fast! It's gonna be fun! It's gonna be exciting! Come out and see what Beaver Meadows has to offer while ripping some pretty rowdy trails. This race will highlight three of the most exhilarating descents in the area.
4 Categories: Open Men, Intermediate Men, All Women, Juniors Under 18
Pricing: $85 for all Over 18, $70 for Juniors Under 18.
Enduro Race Start Time: 11AM
Location: 100 Beaver Meadows Place, Red Feather Lakes, CO 80545 


40 in the Fort, Sunday, July 24, 2016, Race Start: 6AM - 4PM
For those looking for a serious challenge, come experience one of Colorado's toughest mountain bike races. This difficult course covers 20 miles and 4,500 vertical feet of some of NoCo's finest singletrack. Rocks, roots, steep climbs, fast descents, stunning sceneryfast and flowy, tight and techie you'll find it all on this course. Print out the 40 in the Fort Course Map. Featuring a two lap 40-mile or a single lap 20-mile option, there is something available for anyone looking to challenge themselves on a mountain bike. See the Route.  One lap, 20 mile racers can also sign up as a 2 person team.  Just add your team and teammate names to your registration.

2 Lap Race - 7 Categories: Open Men, Sport Men, Open Women, Sport Women, Under 18 Junior Boys, Under 18 Junior Girls, and Single Speed.

1 Lap Race - 5 Categories: Sport Men, Sport Women, Junior Under 18 Boys, Junior Under 18 Girls and Single Speed.

Pricing: 2 Lap Race: $75 for all Over 18, $60 for Juniors Under 18.  1 Lap Race: $65 for all Over 18, $50 for Juniors Under 18.
40 in the Fort Race Start Time: 6AM with final rollout by 7AM.
Location: Lory State Park, 708 Lodgepole Drive, Bellvue, CO 80512
Race Directors
Race Director: Andy Tomaszewski (Member of Overland MTB Club Board of Directors)
Assistant Race Director: Kristin Eagle (mtbtime)
Race Host
Event Location & Accomodations