Event Description
The Race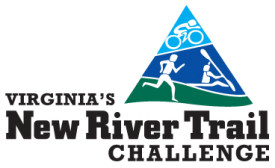 The race consists of three stages along and in the New River. The trail is flat with a crushed cinder surface, and the river flows smoothly with small rapids under normal conditions. The race begins with a 40-mile out and back bike leg, followed by a 12.1-mile downriver kayak paddle, and ends with a half marathon run along the river for a total of 65.2 miles. Although the race is long, it's perfect for beginners and accomplished athletes due to its flattish nature.
Participants may compete solo or in teams of two or three.
We ask that you thoroughly read the rules and guidelines (PDF) before the race. They cover stage meeting times, transitions, requirements, courses, water and aid stations, and recommendations to make your race as trouble-free as possible. If you have any questions, please post them on the Facebook page — the New River Trail family is a friendly group, and someone from Virginia State Parks or the community will be happy to provide answers. You can also contact Steve Boyd with questions.
The race is limited to 250 entrants, so register early to ensure a spot. Solo competitors and teams with at least two students or faculty members from the same university qualify for a collegiate discount registration fee.
Overall male and female winners will receive a $250 gift Virginia State Parks gift certificate, with a $300 gift certificate awarded to the fastest team. Certificates are good for annual passes, camping and cabins at Virginia State Parks.
The Friends of New River Trail will once again provide delicious "backyard barbeque style" meals with the proceeds used to fund special projects at the park. Creek Bottom Brewing Company will return with premium brews, with the first two beverages included in the registration fee. Food and drink will be available between noon and 6 p.m. Hot showers will be available for those camping Friday and on race day.
Be sure to join the New River Trail Challenge Triathlon Facebook group. It contains useful tips, updates, and race info. The Facebook page is also a great place to ask questions, find teammates, post relevant gear for sale, and stay updated on the race's latest news. For first-time competitors, the New River Trail Challenge pdf is a must-read.
Event Location & Accomodations